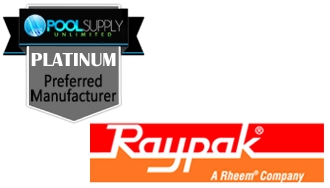 For over 50 years, Raypak has been the world's leading manufacturer of copper-finned boilers and heaters. Raypak's design goals have always been high quality, reliability and energy efficiency. Adhering to these basics is the reason the company is held in such high regard by design consultants, engineers, distributors, contractors and homeowners. In 1996, Raypak was registered to ISO 9001, becoming the first boiler manufacturer to achieve the highest registration level attainable.

Raypak is a designer and manufacturer of commercial boilers, water heaters and control systems, pool and spa heaters and residential boilers.

Click here to view Raypak's Low NOx heater guidelines and requirements.
Raypak, Inc.
2151 Eastman Avenue
Oxnard, CA 93030
Phone: (805) 278-5300
Fax: (805) 278-5468
www.raypak.com